Not unlike "She-Hulk XXX: An Axel Braun Parody", which I looked at yesterday, "Iron Man XXX: An Axel Braun Parody" is essentially a straight ahead origins movie, leading up to Tony Stark being recruited by S.H.E.I.L.D. operative, Nick Fury, to head the Los Angeles based super hero unit known as the Avengers.
The first half of the film follows pretty closely the 2008 Robert Downey Jr. Hollywood blockbuster, with billionaire industrialist and arms manufacturer, Tony (DaBone), emerging from a cave in Afghanistan and the clutches of a band of rag-tag terrorists a changed man. With a radioactive ticker, a high tech suit of red armour and a renewed focus on making right his previous wrongs, Tony begins the arduous task of tracking down those responsible for putting Stark industry weapons into the hands of terrorists… and ending them. Flashes of "Iron Man 2" has Natasha Romanoff/Black Widow, played again by Brooklyn Lee (she also played Black Widow in "Spider-Man XXX: A Porn Parody" and "Avengers XXX: A Porn Parody"), arriving to stop Tony from creating an international incident with China; and "Iron Man 3", as Tony's arch nemesis, the Mandarin (Derrick Pierce), and his woman, Mei Ling (Shazia Sahari), lurk about in the shadows causing havoc.
Reprising the Tony Stark/Iron Man role he played in "Avengers XXX: A Porn Parody", Dale DaBone (2011's "Rezervoir Doggs") turns on the charm here as only he can. DaBone has has been toiling in the business since the late 90's and he brings just the right amount of experience, confidence and smarm to his performance, filling those big Downey shoes, something that Seth Gamble simply could not do when he played Stark in 2011's "Iron Man XXX: An Extreme Comixxx Parody". Sadly, this project proved to be Dale's last. He bowed out of the industry not long after production wrapped. Also reprising his role from "Avengers XXX: A Porn Parody" is Lexington Steele as Nick Fury, agent of S.H.E.I.L.D. He's great and he has a unique way of interrogating the ladies. Who needs water-boarding, when you can just fuck the info out of them? Backing them up is Pepper Potts, Tony's central love interest and business partner, played by the adorable Lexi Belle (2007's "Cum Drunk Teens") and Happy Hogan, this time essayed by Alec Knight (2004's "Hooker Illustrated 7"), who appears in a rare non-sex role.
While I enjoyed the story and I thought the sex was off the hook, I have to admit that I found the special effects to be somewhat lacking, especially the final action set piece in which Tony Stark, donning the War Machine outfit, and Happy Hogan, in the Iron Man get-up, do battle with the Mandarin. It's so quick that if you blink you'll miss it. Very disappointing. "Iron Man XXX: An Extreme Comixxx Parody", for all of its inherent problems story-wise, still managed to deliver some spectacular digital effects, glorious camera-work and a decent climactic final battle, something that seems to be missing here.  Maybe Axel was up against a deadline and just couldn't spend a lot of time on it. Who knows? Oh well, you can't have everything.
Opening in Afghanistan, Tony is showing off his latest invention, the Jericho missile, to some military bigwigs. While en route to the next test sight, the convoy Stark is riding with is attacked by some unnamed terrorists. He is mortally wounded and dragged back to their desert hide-out. Waking up in a dingy cave/jail cell, Tony is tended to by a lovely scientist, Dr. Yinsen, played by the gorgeous Dana Dearmond (2012's "Evil Head"). She informs him that he has shrapnel in his chest and to keep him alive she has implanted a makeshift magnetic ticker inside him. One of the side effects, she cautions, is priapism, a condition which causes the penis to be perpetually erect and unable to return to a flaccid state. Fearing he might rupture something, Dana decides to take matters into her own hands… and mouth. This is a messy blowjob session that finds Dale daring Dana to go deep on his cock. "Ready? Ready?" he whispers. "Yes!" she growls. Holding her hair, Dale plunges Dana's head all the way down his shaft and holds. Pulling free, a long line of drool and spit flow out. "Ooooh, fuck!" Dana squeals, apparently excited by their bit of messy business. Later, Dana decides to come clean about what she really wants, muttering, "Can I be honest with you? I wanna sit on your cock." Dale has no problem with that. She saddles up cowgirl and starts riding. Dana shivers out a very real looking orgasm during some intense reverse cowgirl. Cramming two fingers into her ass, Dana begs for a cock up her butt and gets it. The girl is an animal. "Make that fucking ass cum!" Dana barks while taking it in doggy, spoon and side saddle. In a bizarre moment, Dana actually pops herself in the mouth with her hand. Ouch! WTF? Dale gives her an open mouth facial. She gargles the cum. "That's naughty," Dale whispers. "I like it," Dana says, shrugging her shoulders. So hot! Easily the most volcanic scene of the movie. More Dana, please!
Following the sex, Shylar Cobi (2013's "This Ain't Terminator XXX"), as one of the terrorists, informs Tony that he has three months to reproduce the Jericho missile or he dies. As anyone familiar with the original movie knows, Tony constructs, not a bomb, but a wonky suit of armour which he uses to bust out of the joint. In a terrific show, he rains hell-fire down on the camp of thugs. Dana is shot during the melee and dies in Tony's arms.
Back in America, Tony is going through the motions at a Halloween costume party. Jazy Berlin (2012's "Superman vs. Spider-Man XXX: An Axel Braun Parody"), as Millie the Model, and Skin Diamond (2012's "Corrupt Schoolgirls"), as Jill Jerold, somehow talk Tony into accompanying them to a nearby bedroom. If only to make Pepper/Lexi jealous, Tony agrees. Remember, at this point in the story, Tony and Pepper are merely co-workers, not lovers. In bed, the two girls double up on his cock, getting it ready for a scorching threeway tussle. The girls take turns deep gagging him and then get prodded by his priapism-ravaged shaft in a litany of positions. Both gals receive a mouth and face full of semen for their efforts. They clean him off and swap his semen.
Watching from outside the door is Pepper. Upset, she rushes off down the hall and runs smack into the Mandarin ("How To Make A Cheap Porno 2" star Derrick Pierce) who has crashed the party in a Khan outfit. Utilizing the magic from his alien rings, Mandarin renders them invisible and then places Pepper into a trance. He has her perform oral sex on him right there outside Tony's room as people stroll by in the background. After a lengthy and messy blowjob, Pierce erupts inside Belle's mouth. She promptly swallows it down. Later, after surviving an assassination attempt, Tony looks into the tattoo belonging to one of the hitters and discovers a shady company operating out of China called Prometheus. Fearing what might happen if Tony crosses into China, Pepper begs him to leave it alone. As usual, Tony ignores her and makes plans to leave for China that afternoon.
As Tony rushes off to tend to business, Black Widow (Brooklyn Lee, in a tight fitting leather outfit) arrives too late to talk him out of it. She decides to take the opportunity to hit on Pepper instead, who warms to her pretty quickly. Her heart is with Tony but, he's too busy bedding every girl to notice. All those pent up desires comes out during a heated girl on girl number. The two ladies spend a few minutes kissing and fondling each other before drooling on each others pussies during a scorching sixty-nine. "Fuck, right there, I wanna cum. Don't stop!" barks Lexi at Ms. Lee. Hot!
In the end, Tony and the Mandarin do battle… kinda. Stark's bodyguard, Happy Hogan (Knight), helps out but, ultimately, it's too short and feels anti-climactic. As well, the special effects, including the suit, aren't that great. There's not even a shot from inside the helmet. This is the point in the film where you kind of get the sense that Axel wasn't really trying that hard on this one. Anyway, the credits run and just when you can't believe it's over… it's not.
In a nod to the Hollywood big brother, the scene cuts back after the credits to show that Tony has bedded down with the Mandarin's wife, Mei Ling (Sahari). It's off camera, so don't get too excited. Waiting for him to nod off, she slips a device under his bed before slipping into the bathroom to freshen up. Waiting for her inside is the one and only Nick Fury, played with gravitas by Lexington Steele (2011's "Star Wars XXX: A Porn Parody"). Using very few words, Mr. Cool and Collected informs her that he's on to her. He's looking for information regarding Prometheus and decides the best course of action is to fuck it out of her. Hardly a rape, Sahari gets the horny shivers trying to deep throat Lex's huge cock as any evil henchgirl would, I'm sure. She growls her way through five positions, at one point begging him him to "stretch it out!" From the look of her gaping pussy, I'd say that he does a pretty good job of complying. He drenches (!) her face in semen and she cleans him off. Tony emerges from behind the bathroom door and is recruited by Lex on the spot. Bring on the "Avengers XXX". Oh wait, it's already come and gone.
No condoms.
No production dates given. Released: May 21, 2013.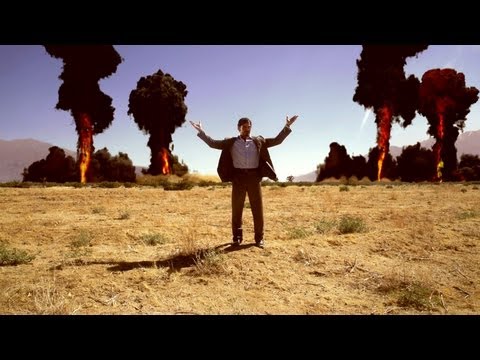 Cast & Crew
Female Performers:
Male Performers:
Directors:
Images