With her entire summer taken up fighting ghouls and vampires and with college right around the corner, Buffy finds herself unable to think of anything but her love, Angel, who has skipped town without so much as a goodbye. "I've even tried masturbating," Buffy laments to her pal Willow, who offers her a sympathetic ear. Willow is troubled and, later that night, decides to invoke a spell in which Buffy can engage in one last fling with Angel. She's hoping that it will help Buffy get her head (and loins) straight. Before long, Willow's spell is taking hold and the entire "scooby gang" is swept up in it, as a series of sexy dreams play out in which the various people screw those they most long for (the whole sex in dreams theme seems like creative residue from his earlier "Wet Dream on Elm Street" project, but if it works it works). As with what so often happens with Willow's spells, something goes wrong. This time that 'something' is a trio of blood-thirsty vampires who have managed to skip through the cross-dimensional vortex and arrive in Sunnyvale. After snacking on the unlucky janitor who dreamed them there, the trio hatch a plan to kidnap Rupert to draw in their arch nemesis, Buffy.
Set in the early part of the show's history (season 1 and 2), and noticeably lacking the presence of Cordelia and Oz (although he's name dropped a couple of times), this manages to be a pretty good mock up of Joss Whedon's popular television series that ran from 1997 to 2003 on WB. There are enough in-jokes and character references to keep fans of the series happy, as well, non-fans, will probably enjoy the sex, which is, across the board, pretty hot. I personally enjoyed the goofy little credit montage that Lee Roy put together.
To my surprise, the always adorable Lexi Belle (who looks a little bit like Sarah Michelle Gellar depending on the camera angle), slides into her tough-hellcat-with-a-heart Buffy role. She even has a couple of nicely choreographed fight scenes that bookend the film. Decked in an ill-fitting red wig, Jessie Andrews (2011's "Adventures in Babysitting" ) plays the Willow role, a part that would have better suited the now-retired Zoe Voss, who is a dead ringer for Alyson Hannigan, in my opinion. Stammering and with her usual verbal ticks, Andrews nails it. Kris Slater and Tom Byron, as Xander Harris and Rupert Giles, round out the gang. Also watch for dreamy Amber Rayne (2011's "Iron Man XXX: An Extreme Comixxx Parody") as one of Ash Hollywood's vampire associates. God even in vampire make-up she's sexy!
In her room asleep, Buffy (Belle) awakes to find Angel (Rocco Reed) hovering just inches above her… literally, he's hovering. Curious as to why he is there, Reed explains she is dreaming and that he has been sent there by outside forces to make things right. While she doesn't necessarily know how a dream manifestation can make things proper in the real world, she's horny, and decides to go along with it anyway. A brief sixty-nine turns into a steamy multi-position tussle culminating with Reed blasting his spunk across her left eye and face. For a guy who gets as much as action as Reed (2011's "This Isn't The Twilight Saga: Breaking Dawn 1") does (130 movies just last year), he has a substantial amount of juice for Lexi. She cleans him off. Over-sexed herself, Lexi Belle (star of 2012's "This Ain't The Smurfs XXX" and nearly 30 other movies just this year) brings an equal amount of spunk to the sexing. You know the old saying: "The more you get, the more you want." I guess it applies perfectly to these two performers. Sadly, even in dreams Ms. Belle doesn't go bareback.
Keeping with the 'screwing in a dream' theme, Rupert Giles ("Star Wars XXX: A Porn Parody" star Tom Byron) wakes up (not really – it's one of those dream in a dream deals) to find his long lost, Jenny (Chanel Preston), really Drusilla, standing above him. "But you're dead," Giles' blurts. "Angelus killed you." Doesn't much matter, as Giles and Jenny opt to have a re-acquaintance screw anyway. Tattooed hawtness Chanel Preston (2011's "Justice League of Pornstar Heroes"), is looking all kinds of hot here grinding it out with porn legend Byron in three positions on a small couch. Byron squirts off a load across Chanel's face and into her open mouth. She cleans him off.
Across town, Xander ("Friends With Benefits" star Kris Slater) is surprised to find Willow (Jessie Andrews) creeping half-naked around his kitchen. She wants to play, but Xander fears that Oz won't take kindly to it. For those not familiar with the series, Oz was Willow's werewolf boyfriend. Remember this is before Willow discovered her inner lesbian. "Look, white haze," she tells him, reminding him that he's actually dreaming and that none of this is real. With that, they decide to get it on. Four positions on and around a counter in a dark, cold-looking room, ends with Slater splashing globs of his genetic crud across her chin, tits, stomach and crotch.
Willow's spell takes a negative turn in the next segment, when a janitor working the graveyard shift at the highschool ("Simpsons: The XXX Parody" star Seth's Beard, in a nonsex cameo) dreams of a trio of sexy calendar girls. Miss January ("Badass School Girls 5" star Ash Hollywood) and her two vampire minions played by Amber Rayne (beginning credits: Amber Rayne. ending credits: Amber Raine), and April O'Neil (beginning credits: April O'Neal. ending credits: April O'Neil), soon arrive and get to work dining on him. Afterwards, the three vampire gals (sans vampire facial prosthetics) decide to dine on each other in a really hot scene. Even though she's playing a lowly minion, Amber totally dominates this scorching tri-girl lapfest. Watching her whispering sweet nothings into Ash's ear as April glides in and eats her out, was the perfect way to kick start the scene. April and Amber work over Ash's clit until it looks like a tiny cock sticking out. Probably one of the better girly threeway scenes I've watched of late.
Since this isn't a two-parter, the film wraps up nicely with a kick ass action set piece (Buffy, Amber and Willow rescuing Rupert while simultaneously doing away with Ash and her minions) and a fluffy powwow in which the gang sit around Rupert's pad chatting about the foibles of using black magic and such to get what you want. Back at home, Buffy is startled awake, this time by something not a dream. It's something much worse. Dun dun dun! We eventually see the reason for her worries, as dastardly Spike ("OMG It's The Nanny XXX Parody" star Michael Vegas, affecting a not great British accent) and Harmony Kendall ("Monster Cock Junkies 11" star Britney Amber) sit in a bed conspiring to do away with Buffy. Rather than shake on it, they decide to 'snog' on it. These two have crazy hot vampire sex snog in a trio of positions. Well lit and boiling over with energy, this scene proves the best of the lot. Yes, even better than Amber's scene. When Vegas eventually unloads a massive wad of vampire juice across Amber's tits and stomach, it's well deserved. A perfect way to take us out of the show.
Curious to see if Meyers will push out a sequel. Given the longevity of most female pornstars, he might want to get on it.
Lexi Belle insisted on a condom. The rest took a chance.
Date of Production: 03/ 2012. Release Date: 05/02/2012
DVD includes a 20 minute BTS, a nonsex version and a bonus scene culled from 2010's "D2: Deviance" (scene 5) and it features Teagan Presley, Nikki Benz, Jenna Haze, and Adrenalynn going at it.
Other things noted while watching:  Lexi Belle and April O'Neil are barefoot in their scenes. Jessie Andrews wears white socks in hers and the rest, Amber Rayne, Ash Hollywood and Chanel Preston, wear knee-high black leather boots in their respective scenes.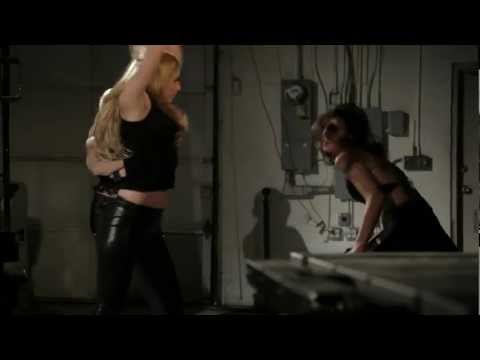 Cast & Crew
Female Performers:
Male Performers:
Directors:
Images