Rob Black, fresh off a year-long stint in prison for the unspeakable crime of producing adult movies starring consenting adults for consenting adults, all of which came courtesy George Bush appointee Republican Mary Beth Buchanan, a religious zealot whose other claim to fame was locking up Tommy Chong for the ghastly sin of selling bongs. The horror! I won't quibble with how a government not my own chooses to make use of their citizen's tax dollars, only that I find it ironic that the party locking up filmmakers for the crime of making movies for grown-ups starring grown-ups, are also the ones screaming the loudest about government waste. Funny postscript; Mary Beth was forced to resign after claims she used her DOJ position for political purposes. She is now a darling of the Republican party, of course.
A former Republican himself, Black's newly evolved political leanings and sudden disdain for the party of the Big Elephant are clear. Reading notes off her palm, Sarah "Do you know how hard it is to spout this shit with a straight face?" Palin is revealed as a puppet of a sleazy right-leaning Texas oil tycoon (Knight);, used as a tool to sway her base, tea-partiers, into advocating for the rise of a new third Reich, Hydra (the name of Knight's Republican political action committee). Their intent: start a third world war and reap the oil, weapons and restructuring profits. I know, crazy. Wait…
As Sinister X., Rob Black seems to have stowed away a lot of that anger (well, except where Republicans are involved) and artistic lethargy that made his films almost insufferable in the years leading up to his prison term. Back in full swing with a new company (Exquisite), a new brand (Extreme Comixxx) and new creative thrust (superhero parodies), he's on the fast track to filling his mantle with awards, something denied him since he parted company with Patrick Collins in 97.
"Captain America XXX: An Extreme Comixxx Parody" proved a departure for the company as they had mainly dealt with characters born in DC Comics. This seems an obvious choice considering that Black has a lot to say. The film proved the perfect vessel for his want to politically ventilate about those he feels are destroying his country – peeking their eyes into people's bedrooms while whining about the evils of big government. Marvel's most iconic character, Captain America, created in 1941 by Joe Simon and Jack Kirby, is re-vamped with an X insignia and a 'fuck you' attitude, doing battle with a terrorist group which are being quietly propped up by some wealthy Republicans. If you lean right politically, this film might not be for you. Just saying.
Picking up where the Hollywood blockbuster ended, this adult superhero "origins" movie begins with Captain Steve Rogers (Evan Stone, in a rare intense, sombre performance) frozen in ice for 70 years. He awakens inside a hospital ward belonging to S.H.E.I.L.D., under the supervision of Nick Fury (twenty-year veteran Sean Michaels, doing a fine Sam Jackson), his protégé, Natasha Romanoff / Black Widow (Tara Lynn Foxxx, cleaned up after her greasy tramp turn in "Spider-Man XXX: A Porn Parody" and 100% sexier than the Hollywood dope she's mocking up) and a fairly sedate Bruce 'The Incredible Hulk' Banner (Dane Cross). I smell spin-off.
Utilizing the old black and white/grain filter plug-in available on any video editor, the film flashes backward to 1940, Germany, as Hitler (Scott Lyons, with a falling-off moustache) unveils his new secret weapon, John Schmidt aka The Red Skull (Bill Bailey), and his division of stealth agents known as… dun dun dun… Hydra.
Back to a modern day setting. Adjusting to the shock of his new advanced surroundings is made easier for Stone when a pair of prying fan-girl nurses, Charley Chase and Ashli Orion (credits: Ashley Orion), come by looking to snap some pictures on their cell phone. "What's a cell phone?" Stone asks. The girls chuckle, before making clear their true desires – to fuck the man known as Captain America. Ah, groupies. This is a spirited/crazy threesome with both girls seemingly focused on out-screaming the other. Chase is an animal, smashing her pussy down with tremendous force and even squirting all over the table (by accident?). Stone squirts all over Chase's pussy and ass.
Nurse Jacky Joy, in glasses, takes on old one-eye, patch-wearing Sean Michaels, in a spirited tussle in an all too cramped hospital bed. While I much prefer her cute B-cup to the Godzilla-cannons she sports now, Jacky is still a hot one. Her "fat ass" (Sean's words, not mine) bounces just right and after only a few positions Sean's busting off a load across her pretty face, glasses and into her open mouth. She cleans him off.
As it turns out, Alec Knight (credits: Alex Knight) is not only an oil-tycoon and war monger, he's also got himself a Frankenstein complex of the tallest order. See, he's desperate to bring back his long dead wife and thanks to a hooker with a predilection for distilled (Rohyphenol-laced) whiskey and Hydra's never-named body swapping machine, he's able to resurrect her in the form of heavily tattooed, tough-talking Juelz Ventura. They are so happy to see each other that they don't even bother making for the privacy of a bedroom electing to screw right there in the Hydra laboratory. Ventura serves up a kinky saliva-filled blowjob on her long lost. At one point she attempts to talk with a mouthful of foam. She looks rabid… and crazy-hot! By the time she finishes her mouth-work, her dress is literally caked in phlegm. It's more disgusting than erotic. They bump cookies in a trio of positions before she takes his load in her mouth. Best let's-get-reacquainted fuck ever.
Dane Cross (always the nerd) is desperate to discover why he isn't Hulking out the way he did before. "It looks like the serum has completely left my system," he tells his girlfriend, the gorgeous Jennifer White. She confides to him that she likes him just the way he is. Ah. Anyway, that seems to get them in the mood for a hot little three-position number right there in his lab. He serves up his non-Hulk-ish load into her an open mouth and she cleans him off.
A verbal sparring match between Juelz Ventura and Sarah Palin… er… The Candidate (India Summer), proves some of the finest acting I've seen in a parody in awhile. Wow! These two are fantastic. India, by far the biggest surprise of the movie, absolutely nails Palin's accent and mannerisms; and even looks like the ex-gov from Alaska. Juelz, who apparently got into porn to piss off her cheating ex-hubby, proves herself an intimidating presence in her villainess role. Why anyone would fuck around on this tattooed goddess is beyond me. Anyway, after Ventura leaves, India is confronted by the Red Skull (Bailey) who is looking for a little attention from his captive. Hardly a rape, as Summer dives right in with both hands, seemingly happy to have her pussy worked over by someone other than Todd. He spurts off across her face.
Durng a conference, S.H.I.E.L.D. headquarters is attacked by Hydra, and this pushes Captain America to go on the offense, hitting back at Hydra on their own turf –  an apparent abandoned junkyard somewhere in Los Angeles. He's backed up by Black Widow, who is packing a pistol and a whole bunch of feisty hotness.
It's a balls to the wall action set-piece complete with a cat fight, machine gun bullet spray, grenades and even a decapitation by shield. Porno battle-time, at its best, well, if you don't mind some iffy CGI. It's the thought that counts. I thought it was fantastic and considering the meager budget, quite impressive.
Back at S.H.I.E.L.D., America apologizes to Black Widow for being a little too hard on her. She shows that she's the forgiving sort by kneeling down on the shield and giving Stone a rough, saliva-filled blowjob. Missionary, spoon and doggy are the positions they run through ending with Cap coating Widow's throat with his chemically-enhanced genetic glop. She cleans him off.
Black/Sinister chooses to end the film, as he did with "Justice League of Pornstar Heroes", on a deeply sour note. This is becoming a trend with Mr. Black who I sense is merely reflecting his own personal cynicism. Either that or this is just setting up a sequel. Probably a little of both. A fantastic film.
No condoms.
No production date given. Release Date: 8/17/2011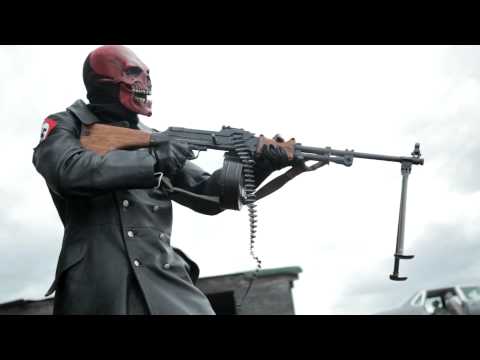 Cast & Crew
Female Performers:
Male Performers:
Directors:
Images