Despite taking its name from a UK TV series that ran from 61 to 69 and a popular Marvel comic line (and much anticipated upcoming Hollywood movie), this is not a parody per se. In reality it's a satirical salute to the silliness of the cape 'n' tights subgenre brought to you by a director that has proven time and time again that he, when he wants to be, is a master at his craft. His "Tell Me What You Want", even to this day, remains one of the most beloved adult films. Jonathan Morgan's attempt at a superhero flick that includes no actual superheroes proves itself both innovative and funny, and with some truly unique characters. In a comedic sense, the segments are on par with any of the skits you might find on MadTV; and calls to mind his hilarious, awards-showered "Double Feature".
Explained in an opening robotic-sounding narration, cities around the world are under siege from a wave of criminality never before seen in history and citizens have turned to superheroes for help. Sadly, with so many cities and so few crusaders, lesser superheroes have stepped up ready to fight the good fight. This lessening of standards have brought a whole of interesting, if not, somewhat morally ambiguous, characters into the fold.
This film details the exploits of one such group, a band of female heroines nicknamed The XXX Avengers, fighting to keep the residents of Metro City safe. They include, Cougarine (Lisa Ann), Inga The Foreign Girl (Alektra Blue), Choleta (Kristina Rose), The Poser (Dylan Ryder) and Super Geisha Girl (Kaylani Lei). While they have no discernible "super powers", they do have sex appeal, fighting skills and an inherent ability to seduce – setting up some hilarious sequences in which they do battle with evil-doers… before fucking them into submission.
In the opener, cat burglar, Mick Blue (2010′s "Cum Fart Cocktails 8"), is finishing up  his most recent B&E only to be stopped on his way out by Inga The Foreign Girl ("Alektra's Dirty Mind" star Alektra Blue, mocking up a hilarious Swedish accent) . She's there to stop him, but Mick can only chuckle, reminding her that she has no super-powers and that, if he wanted to, he could get past her. Thankfully, Inga has something up her sleeve… or rather under her dress. Unveiling her secret weapon, her breasts, leaves Blue hypnotized – and her breathless plea for sex, renders him near catatonic. She blows him and they have a spirited multi-position screw. Morgan's long-time DOP, Jake Jacobs,  seems to have some fun with the venetian lighting here. "You better make Inga cum on that cock!" Blue barks, causing poor Mick to bolt up instantly, and dump a load across her tits. She cleans him off. Afterwards, Inga can't resist seducing the portly arresting officer, which allows Mick to get away with all the loot.
Mere minutes away from torturing-to-death his captive ("Sex And The City The XXX Parody: The Search For the Screaming O" star Kris Slater), and fulfilling his never-defined evil plan, eye-patch clad villain Professor Scar (an unknown/uncredited actor) suddenly finds himself having to deal with a loud-mouthed femina who has just wandered into his lair. As it turned out, the bossy cell phone yapping Latina is none other than Choleta ("Justice League of Pornstar Heroes" star Kristina Rose) an up and coming XXX Avenger desperate to make a name for herself amongst the legions of superheroes. After pounding Scar into submission, and freeing Slater, Rose gives him an ultimatum: sleep with her or she'll tie him back up. Slater, who is himself a kind of James Bond-type superhero, tries to explain to her that he has to rush off and halt Scar's plan which is still very much in motion. Rose, turning in her most hilarious role to date, hasn't got time for that noise. Slater decides to afford her a few minutes, if only to shut her up. It's a quick, sleazy screw that features Rose (what an ass!) staying in character through four hard-pounding positions. "Make me fucking cum, white boy!" Rose blurts. He launches a load across her chest, stomach and pubes. It's a lot of semen and Rose takes note of it.
In recent years, illegal downloaders and content pirates have all but hobbled the once thriving adult film industry, and Morgan goes out of his way to illuminate his (and every other pornographers) ever-growing frustration with this new reality in the third segment. Watching football on pirated satellite television proves to be more trouble than its worth for Chris Johnson (2011′s "Babysitters Gone Bad") and Danny Mountain (2010′s "Slut Tracker 1") when clumsy camera-happy hero The Poser ("Backdoor To Chyna" star Dylan Ryder), in skin tight black leather (an abvious nod to "Avenger"-star Emma Peel, I sense) arrives looking for her pound of flesh. She takes it out of the two guys (literally) in a spirited threeway romp. The boys trade off her pussy and mouth as if she were just so much meat. Ryder encourages them to blast their hot genetic gunk across her tits and they deliver… big time! It's a bucket of semen. She cleans them off.
Asian stereotypes are up for grabs here as Super Geisha Girl (Kaylani Lei) lends her assistance to the city's police chief ("Cougar Cruisin'" star Tommy Gunn) who is working to stop a nuclear meltdown. He has to get across town in a very short period of time but has no means of transport. That's when Geisha arrives and, while she has no superpowers, she is a speedy driver. She offers to take him there in her van… fast! "Asians are known for their great driving," she mutters, tongue planted firmly in her cheek. Along the way to the plant, for obvious reasons, Geisha is forced to pull over to allow Gunn to spew forth the contents of his stomach (off camera). Sensing they will never make it in time, Gunn decides to take Geisha Girl up on her offer of sex. Gunn and Lei have bumped cookies in at least seven different films, so they have a natural chemistry here. Two old friends having a quick fling, it feels like. Even with Lei being a tad over-dressed, they clearly like screwing each other and their multi-positioned bed breaker is by far the hottest of the film. To close out, Gunn melts down across her pubes followed by the nuclear reactor melting down across town.
With his cat, Mr. Whiskers, stuck in a tree, Billy (Dane Cross, perpetually typecast in these nerdy parts) is elated when the legendary XXX Avenger, Cougarine (Lisa Ann), arrives to help out. His elation turns to shock when she reveals how she plans to get his frisky feline down. Whipping out her attitude adjuster (a handgun), she proceeds to blast away until the little bugger scales down the tree to safety. She then turns the gun on Cross (2011′s "Official Halloween Parody"), ordering him to screw her or have his attitude permanently adjusted. Huh? He decides the screw would be the better avenue to take. It's another spirited outdoor in the-grass romp, with Ann looking decidedly hot in over-sized leopard skin boots. They screw in a half dozen positions ending with Cross dribbling across Ann's "whiskers".
Condoms used in every scene.
No production dates given. Release Date: 5/12/2011.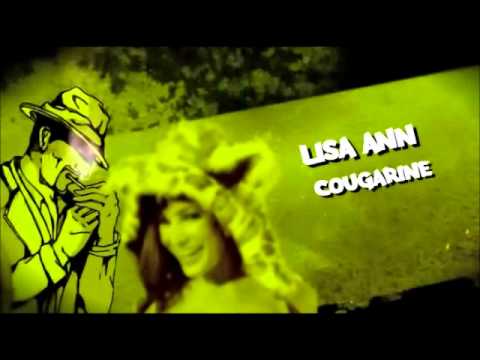 Cast & Crew
Female Performers:
Male Performers:
Directors:
Producers:
Images